Personalised And Branded Pet Products
ZukieStyle offers a personalised corporate service on all of our dog bandanas, cat bandanas, collars, blankets, towels and pet fashion.
Bandanas may be ordered to slip over the collar or as a neckerchief option to tie around the neck, should your dog not wear a collar. We only offer slip over the collar bandanas for cats due to safety reasons.
We normally embroider your designs or slogans rather than print, as we feel this ensures a higher end finish.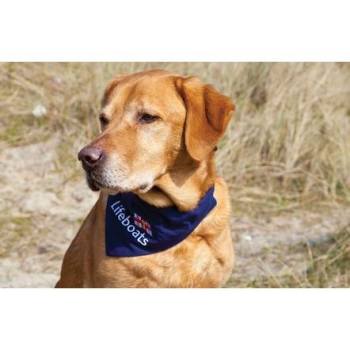 We are the official supplier for the RNLI dog bandanas and collars since 2015
If you would prefer your designs printed, we work with a quality UK designer who can digitally print your designs onto fabric. We ask that your design is a 'scattered repeat image' to ensure we get the most out of your fabric. If you are unsure of this effect or cannot do it yourself we're happy to work with you to create this, this may cost extra depending on the design
All personalised ZukieStyle dog collars, cat collars and bandanas are made from 100% cotton.
Our personalised pet collars are created using our polypropylene webbing which has been wrapped inside the cotton and sewn together using adjustable plastic buckles and sliders. The D-Rings are nickel and welded for added strength.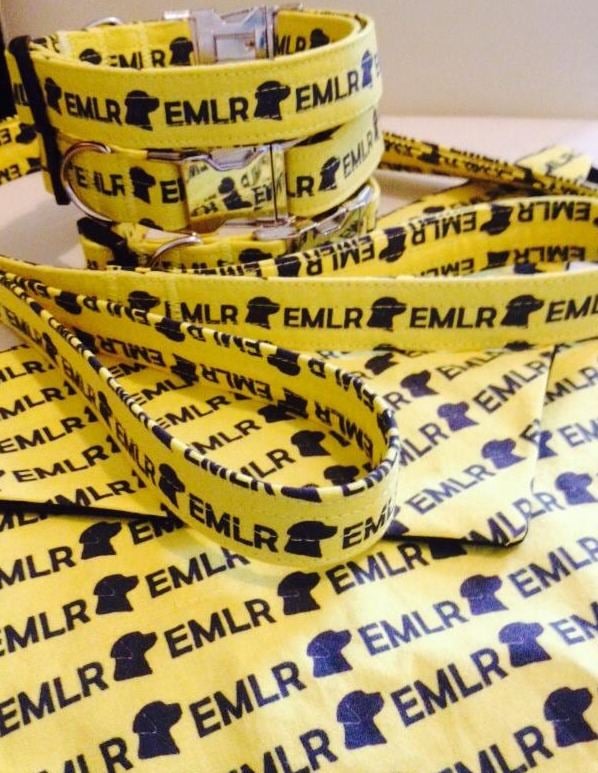 Fabric wrapped collars (with nickel buckle) and leads with matching bandanas - printed
We also offer a polypropylene version, whereby your image is printed onto a grosgrain ribbon and backed with the webbing.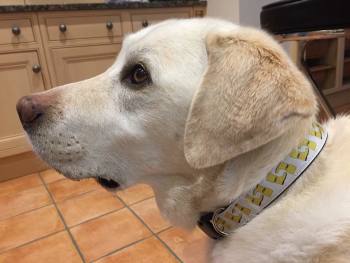 Grosgrain ribbon dog collar on polypropylene webbing
Certain logos may not be possible on X-Small bandanas and collars due to size restrictions.
There is a one - off digitizing fee of £15 (this is done through software to turn your logo into stitches) once you have paid this fee, your logo can be used time and time again should you wish to repeat orders. Occasionally this fee will be waived on larger orders.
We recommend handwashing all embroidered bandanas or a low setting on the machine.
If you wish to order a straight forward worded bandana or neckerchief you can do so online, please visit our personalised bandana page
We also offer an embroidery service for garments, if you wish to have a logo embroidered onto your own tops/scrubs/dog coats we are happy to do this or we can provide certain attire.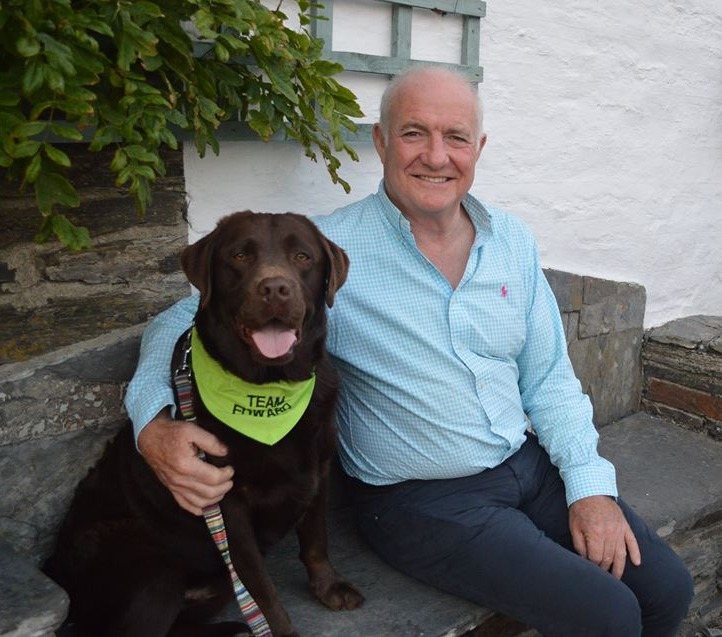 Our lovely mascot Edward with much loved Chef Rick Stein - Edward is an ambassodor for East Midlands Labrador Rescue (EMLR) and helps raise much funds through Team Edward it is an honour to make their bandanas for them.
You can view some of our past clients and work below. If you'd like your own designs creating please email [email protected] with your logo and a description of what you require. Please also advise sizing and quantities if possible.