Red Tartan Bandana
---
Red Tartan Bandana
£4.00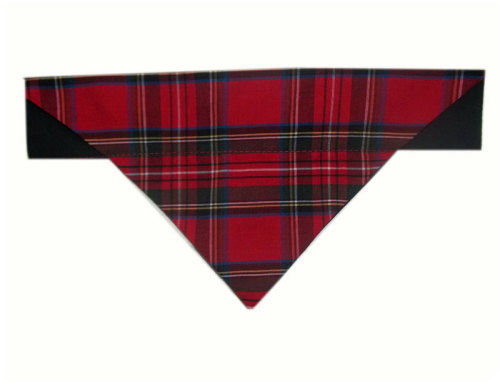 Last Posting Dates For Christmas:
International: Tuesday 1st Dec & UK/Ireland: Monday 7th Dec ZukieStyle will still be taking orders between these dates but they will not be worked on until Monday 4th Jan 2016
Fit for a McPup!! Grab one of these stylish bandanas for your fashionable pup.

Chanel Models the neckerchief version
Made from a red tartan design polyester fabric, this design is available in five different sizes.
Please choose slip on only version for cats.
Please allow up to 14 days for creation.
Extra Small: 18.5cm (l) x 10.5cm (h) approx for collar width 2.5cm or less Ideal for Papillon,Chihuahua & Cats
Small: 28.5cm (l) x 15.5cm (h) approx for collar width 3.5cm or less
Ideal for Jack Russell,Corgi, Cocker Spaniel & Beagle
Medium: 40.5cm (l) x 20.5cm (h) approx for collar width 4cm or less
Ideal for Springer Spaniel, Small Lab, Boxer & Staffy
Large: 44.5cm (l) x 23cm (h) approx for collar width 5cm or less
Ideal for Larger Lab, Alsation, Rottweiler

X-Large: 51cm (l) x 30cm (h) approx for collar width 6cm or less
Ideal for Malamute, Leonberger