Pawed Crusader Red Robin Sidekick Dog And Cat Bandana
---
Pawed Crusader Red Robin Sidekick Dog And Cat Bandana
£5.50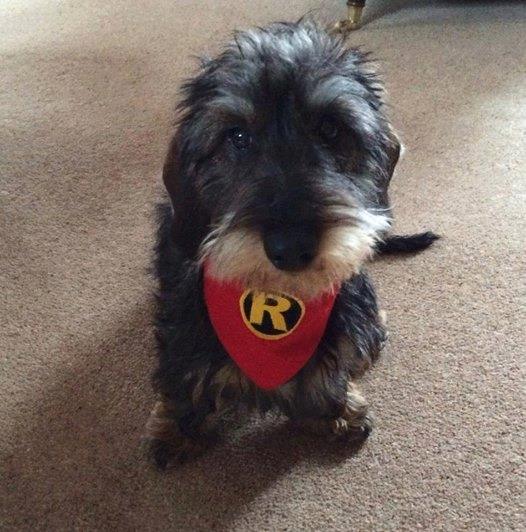 This bandana is part of our popular superhero range and has been made using 100% cotton, it is fully lined and has the Robin embroidered logo on the front.
Your pooch or moggy will look like a proper superhero's sidekick wearing this!
We recommend handwashing for this particular bandana or a very low wash setting and no tumble dry, so that the embroidery stays in tact.
Remember for cats, please choose X-Small. Slip on version only is advised for cats.
The image shown is a neckerchief style, this ties around your dog's neck. Slip over the collar version also available.

Charlie and Benson model the Robin and Batman super bandanas
Extra Small: 18.5cm (l) x 10.5cm (h) approx for collar width 2.5cm or less Ideal forPapillon,Chihuahua & Cats
Small: 28.5cm (l) x 15.5cm (h) approx for collar width 3.5cm or less
Ideal for Jack Russell,Corgi, Cocker Spaniel & Beagle
Medium: 40.5cm (l) x 20.5cm (h) approx for collar width 4cm or less
Ideal for Springer Spaniel, Small Lab, Boxer & Staffy
Large: 44.5cm (l) x 23cm (h) approx for collar width 5cm or less
Ideal for Larger Lab, Alsation, Rottweiler
X-Large: 51cm (l) x 30cm (h) approx for collar width 6cm or less
Ideal for Malamute, Leonberger