Name And Slogan Personalised Bandanas
---
Name And Slogan Personalised Bandanas
£5.00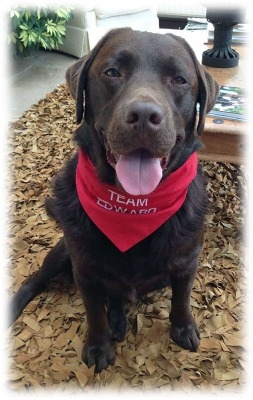 Edward models his 'Team Edward' Bandana in support of East Midland's Labrador Rescue - You can follow Edward and help raise money for EMLR through their website or via Facebook
Do you have a slogan you wish to have on a bandana?
Or do you simply want your pet's name on one?
Available in a variety of colours and to slip over the collar or to tie around the neck, this section is your very own personalisation area.
You may use a maximum of 20 characters for your design, please choose from the following writing fonts:

Script

Bold

Modern
Please choose slip over the collar version only for cats.
Please allow upto 14 days for your bandana to be made.
Extra Small: 18.5cm (l) x 10.5cm (h) approx for collar width 2.5cm or less Ideal for Papillon,Chihuahua & Cats
Small: 28.5cm (l) x 15.5cm (h) approx for collar width 3.5cm or less
Ideal for Jack Russell,Corgi, Cocker Spaniel & Beagle
Medium: 40.5cm (l) x 20.5cm (h) approx for collar width 4cm or less
Ideal for Springer Spaniel, Small Lab, Boxer & Staffy
Large: 44.5cm (l) x 23cm (h) approx for collar width 5cm or less
Ideal for Larger Lab, Alsation, Rottweiler
X-Large: 51cm (l) x 30cm (h) approx for collar width 6cm or less
Ideal for Malamute, Leonberger
Don't like the plainer colours? No problem simply choose one of our patterned styles from our main menu and enter the design name on checkout. You will need to choose the 'Current ZukieStyle Pattern' from the drop down menu
Looking for larger quantities? I'm happy to offer discount on orders of 10 or more. Please get in touch