World Cup Personalised Team Number Dog Bandana
---
World Cup Personalised Team Number Dog Bandana
£6.50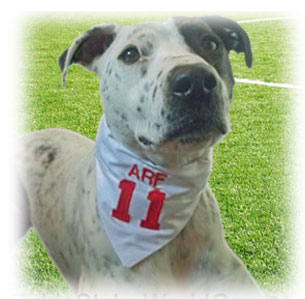 *Last order date to receive in time for England's first game of the World Cup is Monday 11th June - orders placed after this date may not be guaranteed for this match and will be sent throughout the World Cup*
Support your sports team with our exclusive ZukieStyle team shirt dog and cat bandanas
These are a design by ZukieStyle and will not be seen any where else, if they are - they are not official ZukieStyle 'shirt' bandanas!
You may choose your name/colour/number and style.

If no colours are chosen the best colour match will be used.
The slogan or name is embroidered using a high quality polyester thread. The number is appliqued onto the bandana to give an authentic 'back of the shirt' effect.
*Please Note*
We cannot applique onto the x-small bandana due to size restrictions. See below image for an idea of how the x-small will look with embroidery only. Please leave the applique colour option empty for the x-small designs when choosing from the drop down menu.

Above image shows the x-small bandana with embroidery only.
ZukieStyle bandanas are made from 100% cotton and fully lined. They are machine washable on a low temperature.
As with all of our bandanas you can choose the popular slip over the collar version or the neckerchief tie around the neck should your dog not wear a collar. For cats please choose the slip over the collar version only for safety reasons.
Please see the following for an idea of sizing:
Extra Small: 18.5cm (l) x 10.5cm (h) approx for collar width 2.5cm or less Ideal for Papillon, Shih tzu, Chihuahua & Cats
Small: 28.5cm (l) x 15.5cm (h) approx for collar width 3.5cm or less
Ideal for Jack Russell,Corgi & Beagle
Medium: 40.5cm (l) x 20.5cm (h) approx for collar width 4cm or less
Ideal for Cocker Spaniel, Dalmation, Small Lab, Boxer
Large: 44.5cm (l) x 23cm (h) approx for collar width 5cm or less
Ideal for Malamute, Labrador , Great Dane
Please allow up to 10days for your order to be created.
Would you like a striped 'shirt' bandana? Do you support a team from a different sport i.e Ice Hockey/Baseball/Hockey/Volleyball etc?
These bandanas are very versatile, message me and I will try my best to source your team colours
diane@zukiestyle.co.uk
Tweet