Varsity Style Dog And Cat Bandanas
---
Varsity Style Dog And Cat Bandanas
£5.50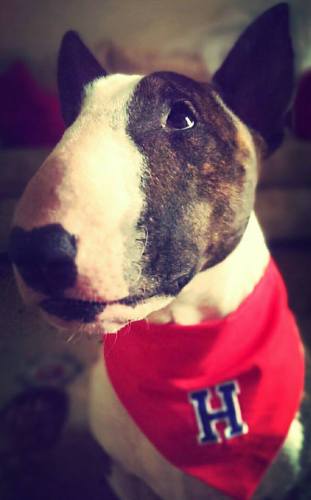 Show team spirit with our adorable Varsity style dog and cat bandanas.
These are an original ZukieStyle design, if you see these anywhere else they are imitations! We are proud to have designed such a fun and popular bandana style.
These bandanas are available in various colours with a bold letter, which is appliqued directly onto the bandana using cotton fabric and a white polyester thread.
The letters measure approx 6cm x 3cm (2.5" x 1.5")
Please choose your letter and colour from the drop down menu.
Sizes as follows:
Extra Small: 18.5cm (l) x 10.5cm (h) approx for collar width 2.5cm or less Ideal forPapillon,Chihuahua & Cats
Small: 28.5cm (l) x 15.5cm (h) approx for collar width 3.5cm or less
Ideal for Jack Russell,Corgi, Cocker Spaniel & Beagle
Medium: 40.5cm (l) x 20.5cm (h) approx for collar width 4cm or less
Ideal for Springer Spaniel, Small Lab, Boxer & Staffy
Large: 44.5cm (l) x 23cm (h) approx for collar width 5cm or less
Ideal for Larger Lab, Alsation, Rottweiler
X-Large: 51cm (l) x 30cm (h) approx for collar width 6cm or less
Ideal for Malamute, Leonberger
We recommend handwashing this particular design
Available as a slip over bandana or neckerchief, slip on collar for cats only please due to safety reasons
Tweet