Rudolph Red Nose Reindeer Original ZukieStyle Design Bandana
---
Rudolph Red Nose Reindeer Original ZukieStyle Design Bandana
£5.00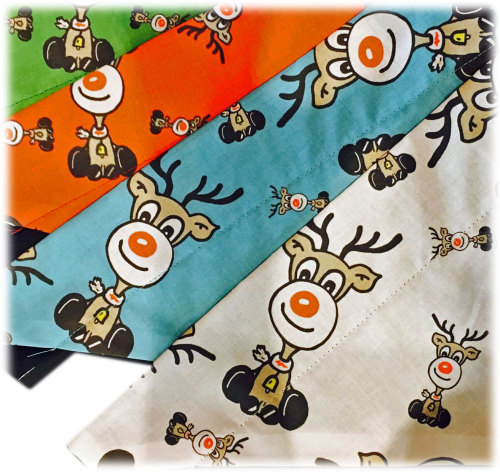 An original by ZukieStyle.
These bandanas are our very own print, designed in house by Diane.
They feature a very cheeky looking Rudolph repeat image across the bandana.
They are made from 100% cotton, printed in the UK.
They are fully lined in a polycotton.
4 colours are available blue, green, white and red.
Approx size guide below, they can be purchased as a neckerchief should your dog not wear a collar. Slip over only for cats please due to safety.
Full supervision required at all times.
Extra Small: 18.5cm (l) x 10.5cm (h) approx for collar width 2.5cm or less Ideal for Papillon,Chihuahua & Cats
Small: 28.5cm (l) x 15.5cm (h) approx for collar width 3.5cm or less
Ideal for Jack Russell,Corgi, Cocker Spaniel & Beagle
Medium: 40.5cm (l) x 20.5cm (h) approx for collar width 4cm or less
Ideal for Springer Spaniel, Small Lab, Boxer & Staffy
Large: 44.5cm (l) x 23cm (h) approx for collar width 5cm or less
Ideal for Larger Lab, Alsation, Rottweiler

X-Large: 51cm (l) x 30cm (h) approx for collar width 6cm or less
Ideal for Malamute, Leonberger