Arthur Crossbreed Rescue Mongrel Dog Bed
---
Arthur Crossbreed Rescue Mongrel Dog Bed
£60.00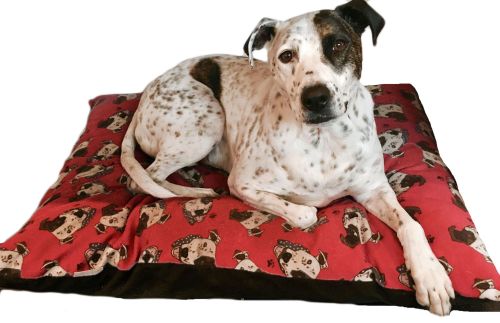 Meet Arthur,
We rescued Arthur from our local kennels, Lincolnshire Rescue Kennels back in 2013. He was brought in as a stray and had been returned a few times unfortunately, before winning us over. ZukieStyle is a huge supporter of all rescues and the amazing work each and every one do. This fabric - the 'Arthur' design has been created to honour all the furries less fortunate.
Add some character to your interior with the Arthur print. Bed cover can be chosen in either a sturdy cotton drill or a fleece top. The bottom uses a black or white cotton gaberdine.
The inner pillow is filled full with a shredded memory foam, which moulds to the shape of your pet's body ensuring support, comfort and warmth. The filling will settle to a depth of approximately 15cm with use so it is recommended to plump up the bed regularly for maximum comfort.
The removable cover can be washed at 30 degrees. Moisture resistant liners are also available to help protect your inner bed from muddy paws and moisture.
All beds are made to order please allow 15-20 working days for fabric to be printed and bed to be created.
You may also have the corner of the bed personalised with embroidered wording of your choice. Please note: Visibility may be reduced due to the nature of this design.
Please advise thread colour and whether you'd like a script or bold font on checkout.
We also offer a discount to stockists on this product if you wish to order 5 or more.